All Summer Activities in One Place: Where to Relax at VDNG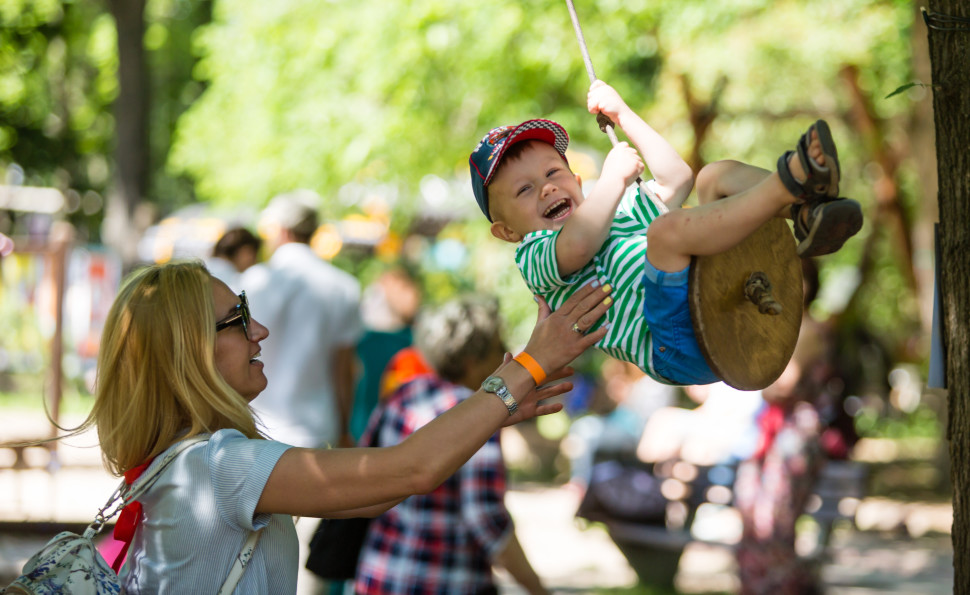 The lockdown has changed our usual life in many ways, influenced the entertainment industry, and left the whole world without high-profile events and festivals this summer. But, fortunately, there are activities that even pandemics have no power over. They will help make the summer of 2020 more exciting and memorable.
The "Summer at VDNG" seasonal amusement park has opened as planned. The park's leisure areas operate in compliance with social distancing requirements and in line with the recommendations of the WHO and the Ministry of Healthcare.
"Living Dragons and Magic Trees" Fantasy Park
Outdoor space to the left of the central pavilion
Opening hours: daily 10:00-20:00
Tickets start at 120 UAH, child and family passes are available

Children under 2 years old admitted free of charge
The exhibition of dragons is so large that it forms an entire park in one of the squares of VDNG. Here you can find over 23 animated dragons from fairy tales, ancient myths, science fiction books, films, and video games. All exhibits are interactive: the length of these mythical monsters ranges from two to four meters, they all move and growl. This park displays mysterious and good dragons of Japan, solemnly festive dragons of China, and formidable dragons from Eastern and Western European traditions.
Veliki.ua and Velolife Bicycle and Scooter Rentals
Opening hours: daily 10:00-20:00, weekends: 10:00-21:00
Price: children's bicycles start at 40 UAH/hour, adult bicycles are available from 75 UAH/hour
Scooters are 75 UAH per hour. A security deposit is required to make a rental.
This is one of the most popular summer pastimes. Even in maximum isolation, a scooter or bicycle ride is always safe; besides, our bikes and scooters are disinfected after each use. Riding any type of individual transport at VDNG is easy and pleasant - to make sure you always find your way around, the Expocenter has implemented a convenient navigation system; besides, there are bicycle lanes and routes for the most active riders. We offer men's, women's, teenage and children's bicycles, comfortable city bikes and cruisers, mountain bikes, tricycles for adults and two-rider tandems. There are regular scooters for beginners and electric scooters for those who like a quick and easy ride.
Electric Vehicle Rental
by Citrus
Main entrance
Opening hours: daily 10:00-20:00
Cost: electric scooters and minibikes start at 150 UAH/hour, electric bikes are from 50 UAH UAH, gyro scooters are from 100 UAH, gyroboards are available from 80 UAH, electric scooters are from 100 UAH, minibikes start at 100 UAH, monowheels are from 100 UAH/hour. A security deposit is required to make a rental.
Electric scooters, minibikes, electric bicycles, gyro scooters, gyroboards, children's mini-bikes and carts, electric scooters, and monowheels. Once, all these names sounded like made-up words from a science fiction book about the distant future. But now, this is a complete list of individual electric vehicles that can be rented at VDNG. By the way, this is a great offer for those who are considering buying one for permanent use but would like to try to ride it first.
Animal Park Contact Zoo
To the left of the VDNG central alley
Opening hours: daily 10:00-18:00
Price: starts at 85 UAH, free admission for children under 3 years of age and citizens entitled to social benefits
Contact with animals is one of the most effective types of stress therapy available in modern society. At the VDNG zoo, not only can you talk to animals, but you are also allowed to offer them tasty, healthy treats, which are sold right here at the entrance. All animals are kept in spacious enclosures, and Animal Park employees carefully monitor their pets to make sure they are happy.
SkyPark Rope Park
Between Pavilions No. 1 and No. 2
Opening hours: daily 10:00-18:00
Price: starts at 100 UAH, free admission for children under 3 years of age and citizens entitled to social benefits
Here you can test for strength immediately 9 rope trails of varying complexity. In order to pass these trails, not only do you need to climb a tree, but also to master the inner workings of several complex systems, including a DNA helix, a mysterious Tibetan bridge, wobbly monkey bars, and cable-mounted bicycles and skates. These trails are designed for both adults and the youngest of visitors. In total, the park has nine difficulty levels, as well as a climbing wall and a rope cube.
KACHELI Family Vacation Space
To the left of the central alley
Opening hours: daily 9:00 AM-21:00
Cost: starting at 45 UAH for an unlimited weekday pass and 50 UAH on weekends; monthly subscriptions are available; admission is free for citizens entitled to social benefits
This is an environmentally friendly space with a unique collection of swings of various shapes, sizes, and designs. While the youngest of visitors ride on all kinds of swings or jump on a trampoline, adults can keep an eye on their kids, while relaxing on comfortable benches and in hanging chairs located in the shade nearby. The territory of the swing park is fenced, so parents keep their peace of mind about their children staying within the park and not getting lost. This space also allows for holding children's parties and events.
KidCity and KidCity Crazy Children's Entertainment Areas
Amusement areas near Pavilions Number 5 and Number 10
KidCity Crazy near Pavilion 11
Opening hours: daily 10:00-18:00, weekends: 10:00-20:00
Tickets start at 60 UAH
These are yet another two comprehensive children's zones at VDNG, filled with activities for children of all ages. Here, you can jump on a trampoline, go through a children's maze, play fishing, ride a train or a merry-go-round, enjoy the sports ground, or jump on a pogo stick. And the KidCity Crazy zone is about to launch a unique Chinese maze in the form of a wicker cocoon, which will equally engage children and adults alike. A giant knitted fabric structure made without metal parts, created manually by the artist Toshiko Horiuchi MacAdam, is displayed here. This is the first time it was brought to Ukraine.
Eco track
Linden alley next to the fire station or Pavilion No. 27
Opening hours: daily 12:00 PM-20:00, closed on Mondays
Tickets start at 100 UAH
This is the only track in Ukraine with artificial turf for radio-controlled off-road model cars of various sizes. The track has a complex configuration of 200 meters in length, many jumps, various obstacles, and challenging sections. It is designed for electric models only. Since both beginners' and professional tracks are available, the location is interesting for children and professional drivers alike. An ideal place for a dad and son weekend.
Lemurashnik
Near Pavilion No. 11
Opening hours: daily 11:00-20:00
Ticket price: weekdays - from 60 UAH, weekends and holidays - from 140 UAH
This is a children's smart playground with a network of interconnected tree houses. Each one of them has its own in-game story, and all transitions between trees are protected by a safety net. The playground has a smart zone protected from the sun and rain with a variety of assembly block games for children and their parents.
Ganz paintball
Working hours: 10:00 - 20:00 (booking required)
Tickets start at 200 UAH
Paintball and laser tag foster team spirit, help discover and improve leadership skills and are always positive and engaging. Paintball and laser tag are most popular with groups of adult players, but children can enjoy them as well with some supervision. The site also offers to make photographs to keep the moments spent here alive.
Quests by Questmania

Pavilion №6
Opening hours: weekdays 10:00 - 19:00, weekends 10:00 - 20:00
Tickets start at 300 UAH
This is great entertainment for those who aren't used to sitting still and who like to challenge themselves with demanding puzzles. At VDNG, one can always find games and escape rooms for the entire family, as well as team-oriented quest rooms for children aged 6—12. They are engaging, fun, and safe.
Kitchen garden
Opening hours: daily 12:00-22:00
Cost: Free
This ornamental plant studio and gardening center with a small cozy cafe in the apple orchard is one of the most photogenic locations at VDNG. The center's mission is to develop a culture of growing herbs on the windowsills of urban residents. Here, one can always find a great selection of flower and vegetable crop seedlings, as well as those for indoor plants, succulents, cacti, and adornment compositions made of flowers and, of course, all kinds of spices. And to top it all off, Kitchen & Garden visitors are offered delicious coffee and lemonade.
Picnic Garden
Apple orchard near Pavilion 10
Opening hours: daily 12:00 PM-22:00
Cost: Free
This is VDNG's very own Insta-space! Here, our guests can spend some great time in a beautiful apple orchard among lavishly decorated zones and small tables under apple trees. The garden is perfect for relaxing during a walk or having a coffee in peace and quiet. This location, just like any other at VDNG, promotes a healthy lifestyle, and that's why the Picnic Garden is a safe space free from smoking, strong liquors, and other bad habits.
Hammock Garden
Beginning of Linden Alley in the apple orchard
Opening hours: daily starting from June 7, from 14:00 until the last guest
Cost: Free
This is an ideal place for those who seek peace and tranquility. Tentatively, the Hammock Garden is expected to open its doors at VDNG from June 7. Here, you can have a great time alone with nature and an interesting book. On the other hand, you can get together with friends or hold a romantic date in the hammocks. Towards the evening, the garden hosts mini-concerts and open-air film screenings, with a limited number of spectators and a mandatory social distancing.
VDNG Meadow
Linden alley behind the Hammock Garden
Opening hours: from June 7, Mondays through Thursdays from 12:00 to 00:00
Fridays through Sundays - from 12:00 to 02:00
This summer, the main entertainment events will predictably be held in the open air. We are looking forward to launching an engaging and varied program at the VDNG Meadow, which will help to make this summer season vary memorable. Here, we plan to hold film screenings, host DJs from all over Ukraine, as well as offer other activities to guarantee that our guests have a great time in the open air. All activities will be held in compliance with social distancing requirements and WHO and Healthcare Ministry's standards.
BBQ Zones: Sport Family Park, Garden, Kolyba, Ostrivets
All around VDNG grounds
Working hours: 10:00-23:00 (preliminary reservation required)
Prices start at 700 UAH/day
This is one of the most popular locations for active summer outdoor rest and recreation. Here, you can get together with friends for a barbecue, or, have a vegetarian picnic. The zones already have all imaginable tools and supplies that you may need to have a picnic: barbecues, skewers, and comfortable gazebos, to name a few. Some select zones also offer football and volleyball fields, a badminton field, frisbees, kites, and children's areas with animators.
Food Zones: Linden BBQ, Park food kiosks, Kafana, Fiorelli Lounge Bar
All around VDNG grounds
Opening hours: daily, starting from 9:00
One thing we're really sure about is that nobody will go hungry at VDNG Here, you can find copious summer terraces and grill points offering grilled vegetables, delicious barbecued meats and fresh pastries on the Linden Alley, as well as kiosks with popular park foods such as hot dogs, fries, waffles with a wide variety of fillings, drinks, and ice cream, all across the park. The Kafana restaurant allows you to spend some great time in a cozy space with comfortable wicker furniture, and the Fiorelli lounge bar is a good place to relax outdoors in the cool tree shade.